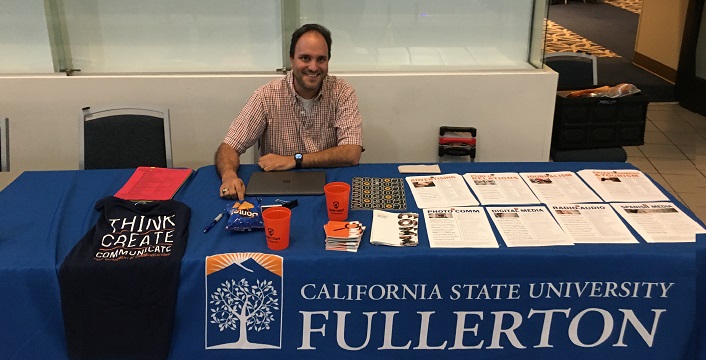 Nearly 200 journalism students from 21 local community colleges filled the meeting rooms of the CSUF Titan Student Union on Oct 19, as participants in the annual Journalism Association of Community Colleges 2019 Southern California regional conference.
The conference was organized in part by CSUF Assistant Professor Waleed Rashidi (who serves on the JACC Board of Directors as the University Representative), alongside JACC Southern California Representative Sylvia Rico-Sanchez of East Los Angeles College.
The event featured several workshops, presentations and journalism contests. Two CSUF Communications lecturers hosted workshops. Jesus Ayala presented "Se habla Español: Exploring careers in Spanish-language news" and Davis Barber presented "Who are you working for? Earning what your photojournalism is worth." CSUF Communications Lecturer MaryAnne Shults organized the conference website.
Next year's JACC Southern California regional conference is scheduled for Sat., Oct. 24, 2020 in the Titan Student Union. For more information, please visit http://jacconline.org/conferences/