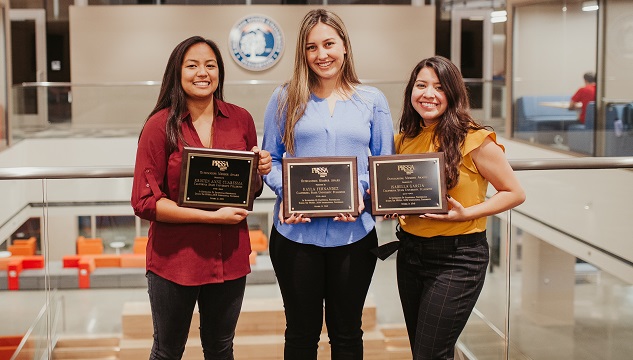 Three PRSSA board members were honored for their contributions in organizing and hosting the international conference, which took place in San Diego.
President Kristen Cuaresma, along with Kayla Fernanez (Vice President of Sponsorship and Fundraising) and Isabella Garcia (Vice President of External Communications), were recognized with Outstanding Member Awards. All three are currently seniors.
"Aside from CSUF's exceptional communications program, CSUF's Public Relations Student Society of America Chapter has held the ability to grow and thrive over the years," says Cuaresma. "With consistent chapter success through membership and programming along with our previous 2018 sold out regional conference, Next Generation PR and this year's 2019 International Conference, The Golden State of PR, PRSSA continues to support their students growth and success in their chosen field."
The CSUF PRSSA chapter spent over a year in preparing to host the five day/four night conference. It was the first time that Cal State Fullerton hosted the international conference since 2009, when CSUF had a joint bid with San Diego State. This year CSUF was the sole host. Cuaresma, Fernandez and Garcia were all appointed to the PRSSA conference committee.