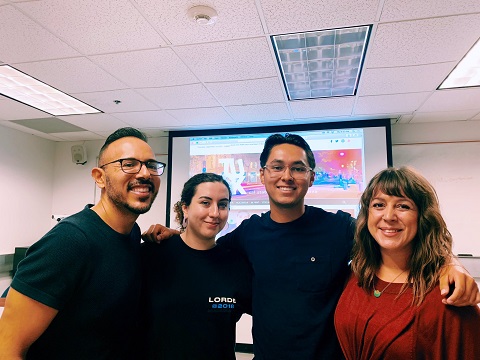 TUSK magazine, CSUF's award-winning lifestyle magazine, is proud to present the launch of our new vertical TUSK TV. The TUSK TV team will be comprised of CSUF's most-advanced broadcast journalism students enrolled in a new course, COMM 432: TV Newsmagazine. These students are passionate about telling millennial stories, the millennial way.
"Our content will be raw, cutthroat and original. We want to challenge traditional television news formalities, and we want the freedom to tell our stories our way," said Dominic Torres, TUSK TV's Executive Producer. "We are embracing documentary style journalism and modern-day graphics and music to explore the ever-changing forms of storytelling."
Tusk TV will be managed by Prof. Jesús Ayala, a lecturer in the Department of Communications, and a four-time Emmy award-winning TV news producer with 16-years of experience in longform TV News.
"The truth is that the industry is evolving and not all broadcast journalism students want to pursue careers in day-of-air news anymore," said Ayala. "TUSK TV presents us with a unique opportunity to not only broaden and diversify the curriculum within our journalism program, but it is also a great avenue for us to prepare students who want to pursue careers in the docuseries space or in long format TV."
TUSK TV will be archived at tuskmagazine.org and will supplement TUSK magazine's 20-year tenure as CSUF's leading student lifestyle publication. TUSK magazine was named best magazine for universities >10,000 students by the California College Media Association in 2019.
"We are excited to collaborate and build a new identity for TUSK that incorporates multimedia and long-form broadcast reporting, highlighting the changing role magazines play in today's media marketplace," said Chelsea Reynolds, an assistant professor of Communications who advises TUSK and teaches COMM 437: Advanced Magazine Writing and COMM 434: Magazine Production.
For TUSK TV's first broadcast, Torres, a senior majoring in Communications with an emphasis in broadcast journalism, traveled all the way to Valencia, Spain to tell the harrowing stories of Venezuelan refugees who are struggling to find a safe haven thousands of miles away from home. The story will be launched on the TUSK TV vertical in late October.