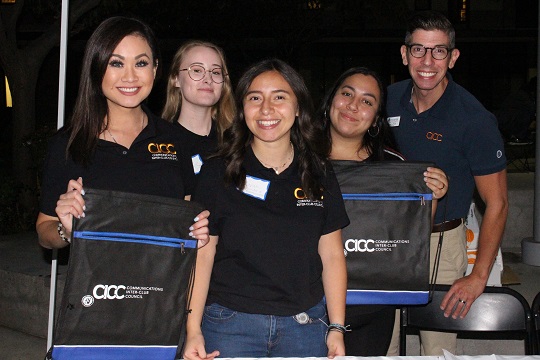 The Communications Inter-Club Council hosted their fall CommUNITY mixer on Thursday afternoon at the Housing Piazza near the dorms. Just about all the COMM clubs, including Ad Club, FMAA, PRSSA, Latino Journalists, Titan Radio, ETC and Lambda Pi Eta, showed up at the event to mingle with each other and try to recruit new members.
"This is really an opportunity for students, specifically within the College of Communications, to get to know some of the clubs that are under the college of Comm," says CICC Director of Communications Sarah Marin. "These clubs are academically tied with the college and some focus on the various concentrations that we have such as advertising with Ad Club and Entertainment & Tourism with ETC…so this is an opportunity for students to get to know those clubs and network with each other"
Marin stressed that there is benefit for students to join these clubs.
"They definitely get that professional development and get more of a chance to learn about the fields that they're studying right now and even get to attend conferences and get to attend events that will benefit them in their career path."
Here is a list of clubs that students can join. Most of them meet weekly and have opportunities to attend professional conferences, that can lead to networking and jobs.
Here is list of some of the clubs that students can join.
Public Relations Society of America (PRSSA)
PRSSA is for Public Relations majors. The club has meetings every two and sometimes hosts professional speakers who work in the industry. They also attend conference that allow for skill building and networking opportunities. E-mail csufprssa@gmail.com for more information
Ad Club
Ad club is for advertising majors. Paid members will get the benefits of networking, listening to professional guest speakers and industry insider information. Ad Club meets every other week. Their next meeting is September 18th, 7pm – 9pm at the TSU Gabrielino. Contact Ad Club on Instagram for more information: @CSUFAdClub
Entertainment & Tourism Club (ETC)
ETC is for those who fall under the Entertainment and Tourism major. Their meetings include workshops, attending tapings for TV series, panels and mixers. For more information, e-mail etc.csuf@gmail.com
Society of Professional Journalists (SPJ)
SPJ is the largest journalism organization in the country. It's a must join for anyone who wants to get into the journalism business. Contact SPJ via e-mail for more information: spjfullerton11@gmail.com
Latino Journalist
Latino Journalists promotes diversity in newsrooms by providing networking opportunities through clubs and organizations. Latino Journalists is also involved with the award-winning Spanish newscast "Al Dia." E-mail club president Vania Patino for more information: Vaniapatino12@csu.fullerton.edu
Titan TV
Titan TV is for Broadcast Journalism majors who want to apply their classroom settings to a professional environment. Titan TV produces multiple shows that Broadcast Journalists can get involved in, including The Report (News focused), OC News (News production) and Titan Sports (Sports reporting and producing).
To get involved with Titan TV (for shows such as In Focus, Titan Weekly, The Report, OC News, Titan Radio Live and Tech On), e-mail the director Eraj Shadaram at eshadaram@fullerton.edu
To get involved with Titan Sports, e-mail TitanSportsRecap@gmail.com
Communications Inter-Club Council (CICC)
CICC is an inter-club council between all the difference communications clubs. To get involved,
In addition to the different clubs, there are content-producing news organizations such as the Daily Titan and TUSK magazine that allow you to practice real writing and journalism skills. The Daily Titan has two sides, the content side (jouranlists and reporters) and the sales side (advertising). The organizations are student run and usually involved with a Communications class.