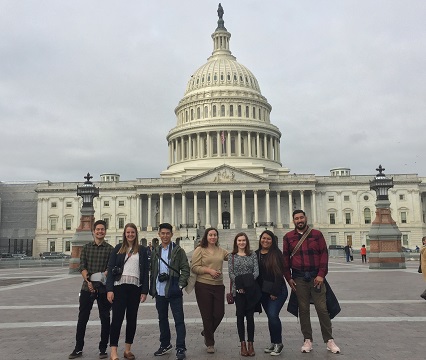 Seven Daily Titan newsroom staff members, along with Daily Titan advisor Walt Barringer, flew to Washington, D.C. for the Associated Collegiate Press and College Media Association Fall National College Media Convention. The conference ran from Oct. 31 to Nov. 3, 2019. The staff members were sports editor Arnie Gonzales, lifestyle editor Madeline Gray, photo editor Eliza Green, opinion editor Alyssa Lopez, managing editor Nathan Nguyen, assistant photo editor Omar Sanchez and opinion editor Bernadette Steele.
During their trip the staff toured the Newseum journalism museum, visited the Capitol and the Supreme Court, saw the original Constitution and First Amendment at the National Archives, and finished the day at the White House. The students also attended conference sessions designed to help better managed newsrooms and improve the students' journalism, plus they heard speeches by Marty Baron, executive editor of The Washington Post (where two Daily Titan alumni work) and Nina Totenberg, NPR's legal affairs correspondent.
Conference sessions had such student-grabbing titles as "Your Sports Page Sucks" and "Zombies and Aliens Can Create Community Engagement," all with very serious journalistic content presented by working professionals and top university news faculty advisers.
The Daily Titan was critiqued by a professional journalist and entered into the conference's Best of Show competition, where they recieved 8th place.
Many of the skills acquired at the conference will find direct application in the newsroom, including sessions that covered the kinds of stories that are routine assigned by the Daily Titan.
Among the conference exhibitors were organizations offering paid internships, graduate journalism schools and professional organizations journalists.
The student staff returned late on a Saturday night so that they could be in the campus newsroom by noon on Sunday for production of Monday's Daily Titan.