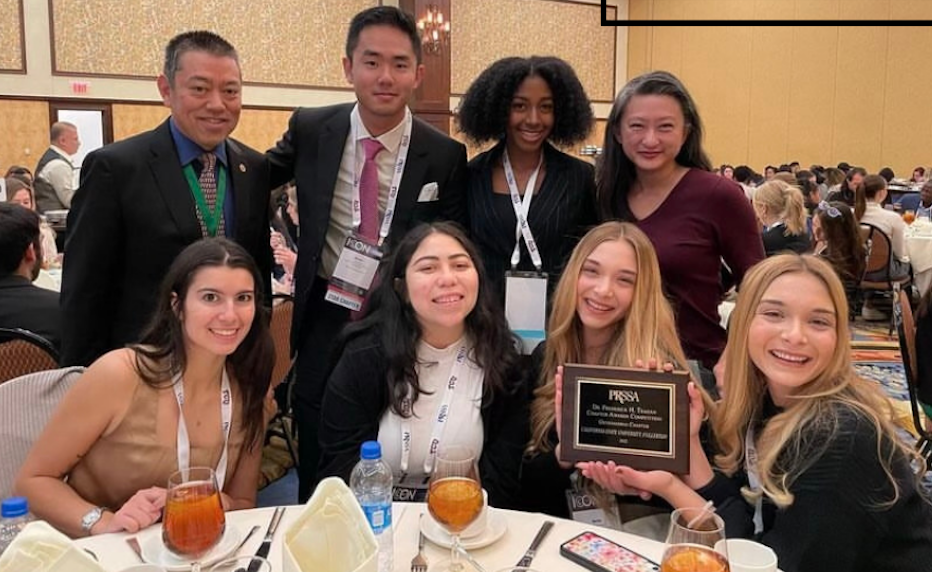 by Annisa Charles
Cal State Fullerton's chapter of PRSSA brought home the Outstanding Chapter Award for 2022 and witnessed the Dean of the College of Communications, Bey-Ling Sha, be inducted into the PRSA College of Fellows at the PRSSA/PRSA International Conference (ICON).
Professionals from the PR industry and 300 university chapters came together for networking and professional development sessions. During ICON, various PRSSA and PRSA chapters were awarded for their work within their organization and on their campuses. This was the first time ICON was held in person since 2019.
CSUF's Jasmeen Holder, Heidi Gutierrez, Alexus Alfaro, Ava Kendrena, Bella Kendrena, Kevin Law and Emandra Garavito attended the five-day conference in Nashville, Tennessee.
CSUF's PRSSA won the Outstanding Chapter Award for the year 2022. This award is given to chapters that submit an application outlining the strong and active chapter membership and demonstrated leadership on the national level, both past and present. ICON seeks chapters breaking boundaries and pushing the limits with programming and opportunities.
This was CSUF's second time winning the award in three years, making CSUF's chapter number one internationally.
Dean of the College of Communications, Bey-Ling Sha, was inducted into the PRSA College of Fellows. Ken Hagihara, CSUF faculty adviser and PRSSA National Faculty Adviser, has also been inducted into the fellowship in the past. The PRSA College of Fellows is the gold star standard for public relations professionals. An application and peer review process are conducted before being inducted. Election into the College is considered the pinnacle of one's career.
CSUF now has two College of Fellows personnel out of 700 worldwide.