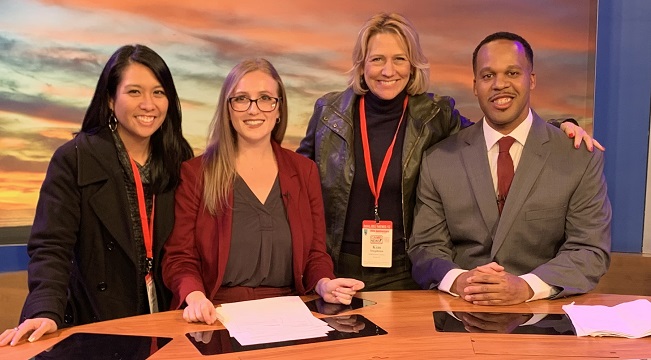 Several current and recently graduated COMM students had the chance to attend a "Camp News" journalism bootcamp that took place at Pepperdine University in Malibu. CSUF students joined tons of other aspiring journalists from other schools to learn reporting techniques such as reporting, anchoring and networking during the two-day camp.
"Camp News was an incredibly rewarding experience where students and current journalism mentors were able to mingle their creative minds," says current CSUF Broadcast Journalism student Mackenzie Quinn. "Having the opportunity to have one on one working moments with professionals in the industry gave you that real world expectations that aren't always held on campus, with teaching opportunities in the moment."
Some of the best reporters in the L.A. market served as counselors for the camp, including FOX 11 anchor Christine Devine, Orange County native/CBS2 Anchor Suzie Suh and Cal State Fullerton graduate/Spectrum News reporter Vicky Nguyen.