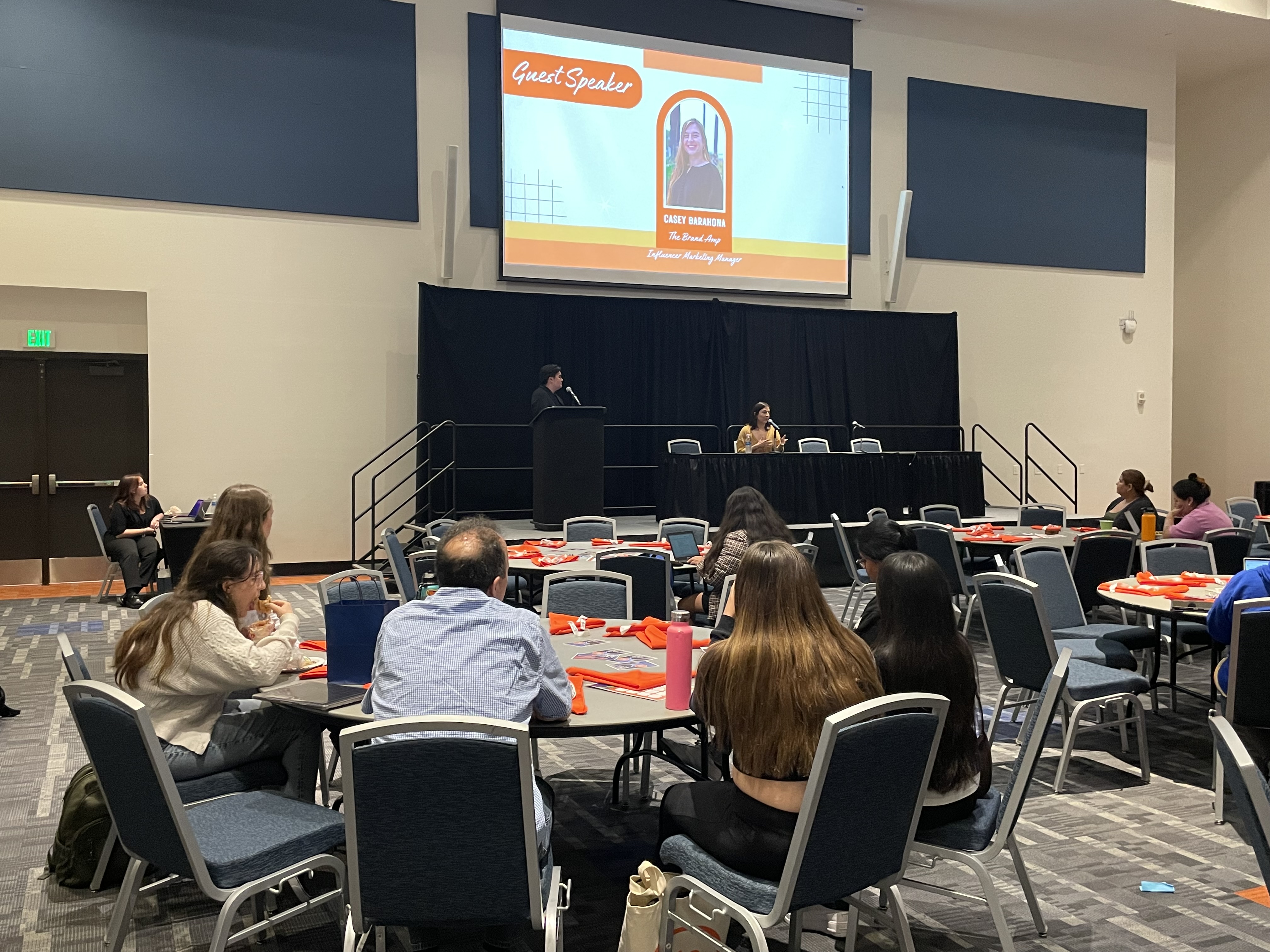 by Annisa Charles
On Apr. 11, Cal State Fullerton's Communications Inter-Club Council (CICC) and the College of Communications (CCOMM) held the "CICC x CCOMM Convergence" in the Titan Student Union.
The event aimed to promote community and support among students, staff, administration, clubs and organizations affiliated with the College of Communications.
Bey-Ling Shaw, dean of the College of Communications, spoke at the convergence that included students and faculty who are part of various majors under the College of Communications, including Human Communications Studies, Communication Sciences and Disorders, Cinema and Television Arts and Communications. The Communications-specific department has multiple concentrations for students to pursue: journalism, advertising, public relations and entertainment and tourism.
A professor panel included Gayle Brisbane, an assistant professor of the College of Communications, and Ying-Chaio Tsao, an associate professor of the Communications Sciences and Disorders department and graduate advisor. It gave students the ability to ask questions about the industry, their classes and their experiences.
Entertainment and Tourism Club (ETC) held an alumni panel, in which Casey Barahona spoke about their experience and their current position as the influencer marketing manager at The Brand Amp.
Areli Castro and Virginia Zatarain from the Titan Dreamers Resource Center talked about the different resources available for students and how they can access them.
Daily Titan's Isabela Veloro, director of sales; Spencer Otte, editor in chief; and Hugo Rios, managing editor all spoke about the organization and their roles, along with how to get involved.
Titan Radio's general manager, Cameron Macedonio, also spoke at the event about Titan Radio and how to get involved.
Internship opportunities, stipend leadership positions, paid job positions and various clubs and classes available for students in the College of Communication were discussed. Ruaa Labanieh, CICC's chair, said they plan to make the CICC x CCOMM Convergence an annual event. Holding this event annually will continue networking between the College of Communication students and provide information on resources and leadership opportunities available that may otherwise be unknown.
Three raffle opportunities were available, along with pizza, In-n-Out, snacks, soda and water. On top of it all, Tuffy the Titan made a surprise appearance, wowing and exciting the crowd.