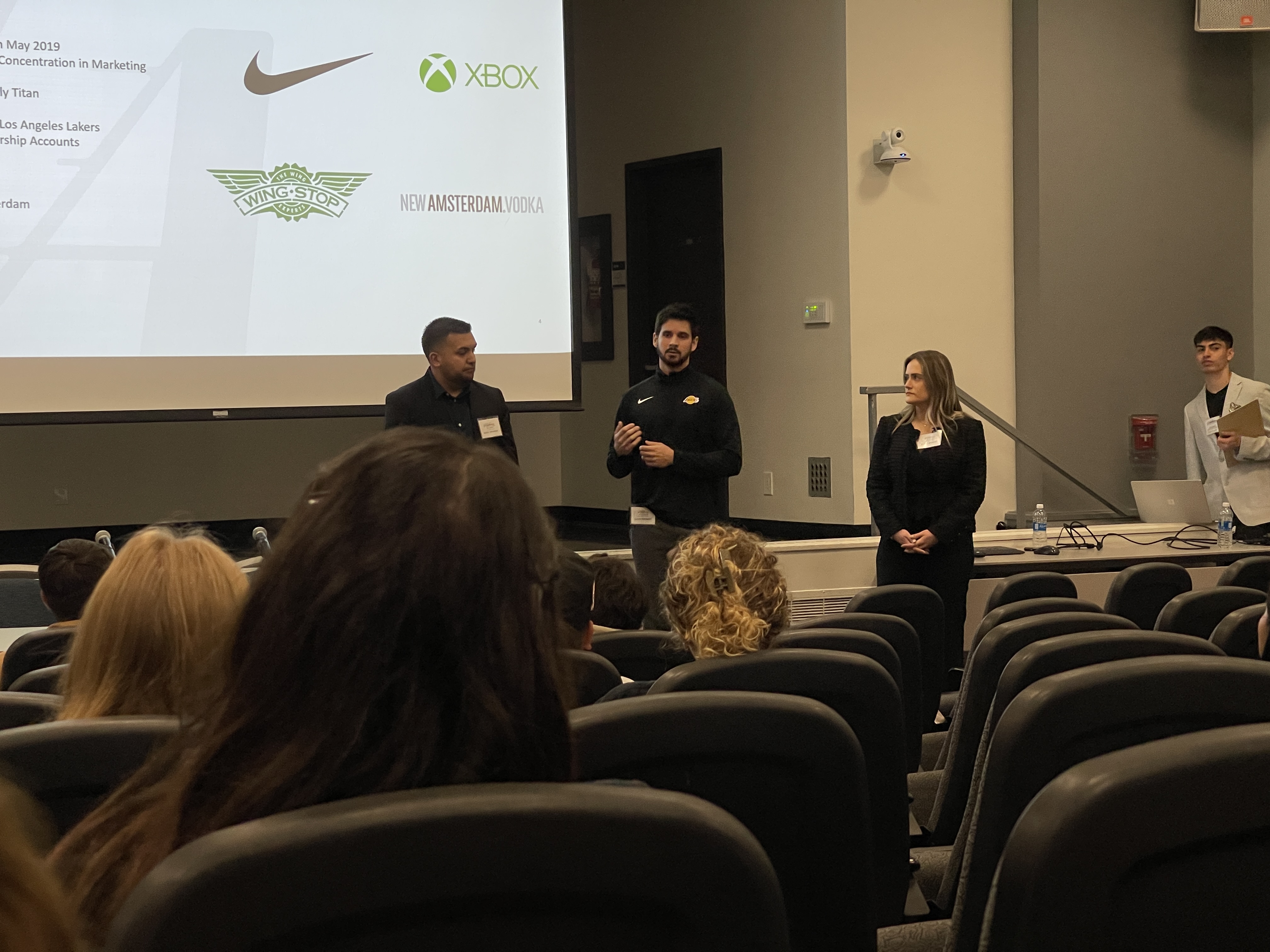 by Annisa Charles
In their COMM Week panel, "Breaking into the sports industry: Los Angeles Lakers interns to full-time employees," Cal State Fullerton alumni Madison Fessia and Thomas Dunne and their co-worker Jose Ledesma explained how they each went from being interns for the Los Angeles Lakers to be full-time employees.
Fessia, who graduated from CSUF in 2020 with a bachelor's in public relations and a minor in marketing, said she works as the box office coordinator and operations.
She said the most challenging part of her job is handling all ticket members individually. But, she also said it is the best part of her job; by talking with ticket members, she hears many joyful stories, such as how someone's tickets have been passed through their family.
Dunne, who graduated from CSUF in 2019 with a business degree with a concentration in marketing, said while attending CSUF, he worked in advertising for the student-run newspaper, the Daily Titan. Currently, he works as the corporate partnership coordinator. His position includes working with other brands and getting them to sponsor the Los Angeles Lakers.
He said the best part of his job is attending the home games and seeing all the fans. The most challenging for him is when he and his team have ideas for the partnerships and the legal counsel tells them they cannot pursue the idea due to potential legal issues.
Dunne said his job entails being comfortable around people. He advises anyone pursuing the field to be easy to talk to and comfortable talking to anyone in order to build relationships.
Fessia told the students how there are over 200 positions within the sports industry that no one ever considers. She said she never thought when getting into the sports field that there were a diverse number of positions that could benefit almost anyone in any career path.
Her most important advice is for students to start using their resources now. In order to work in sports, having a background in sports on a resume is important, so both she and Dunne had worked for Titan Athletics during their time at CSUF.
Ledesma, the current community relations coordinator, said his favorite part of the job is the people he works with. "It's a family business, it's a family team, and you really feel it."
The most challenging part for him is how he wants to be able to tell anyone and everyone 'yes,' but in reality, he cannot do that. His job includes creating a connection between the Los Angeles Lakers and their fans through social media and events like the "Hoops for Troops," "Building Bridges with Basketball," theme nights and other community events.
Ledesma advises students always to be open to learning, find ways to network and have as many internships as possible. Finding a mentor is also significant to grow and get more opportunities.