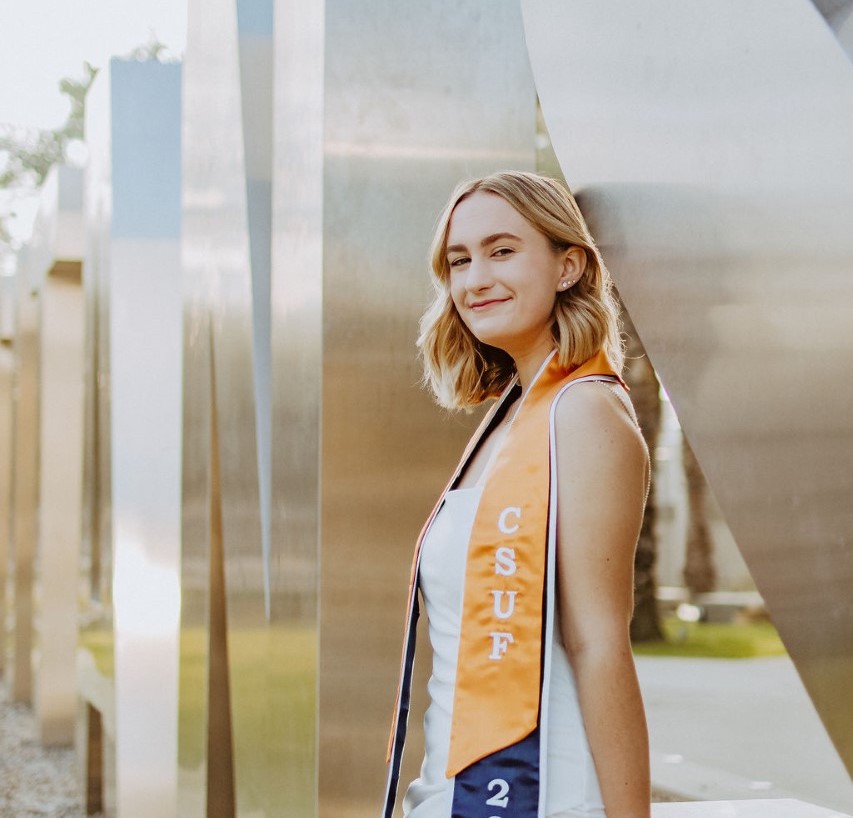 by Annisa Charles
Caitlin Williamson graduated from Cal State Fullerton in fall 2021 with a degree in communications with a concentration in entertainment and tourism and a digital communications media certificate.
During the transfer student orientation, Williamson heard about the certificate options for communications. Because she enjoyed digital media, she decided to pursue the digital communications media certificate, which she said was among her favorite classes.
When first starting at CSUF, her concentration was public relations (PR). But after her first PR class, she realized she preferred the entertainment side of things rather than the corporate. She changed her concentration to entertainment and tourism because she wanted to pursue something she would enjoy long term.
Initially, due to her passion for music, she wanted to work in the music industry, but after interning at a music entertainment company, she realized she wanted to explore different parts of the entertainment business. "So I kind of learned through my different experiences, but it was a really good experience, and I actually have gotten other jobs from one of my internship bosses," said Williamson.
Now, she works for the Television Academy, widely known as the company that hosts the Emmys. She works as their digital communications coordinator, overseeing all internal communications that deal with announcements, elections and event invitations. She also sends their weekly newsletter to all Academy members on Tuesdays and helps the social team from time to time.
She found this job through her friend's aunt, who had connections and sent her the job posting. She applied about two-three weeks after graduating and sent her friend's aunt her resume, who then passed it along. From there, she was hired and now sees connections as very important.
She said the capstone class she took gave her the most experience and prepared her for where she is today. In a group, she was assigned to a nonprofit and helped them build their social media strategy and create content for them. It helped her learn how to work with other people's work ethics and was a hands-on, real-world experience.
Williamson also credits many of her other classes though, because they gave her the background and history she uses daily while working for the Emmys.</p.
Her advice for students is not to take any relationship for granted: internship supervisors, high school friends or family friends. "You truly never know where those connections for your future jobs are going to come from," she said.
She also said not to worry about what career you have straight out of college. She explained that your first job out of college doesn't need to be your ultimate dream job or an amazing title position; no matter what, you're gaining experience and learning more about yourself and what you want to do in your career.